Homeowners associations have adjusted to a new normal because of the COVID-19 pandemic.  This includes remote meetings and elections, closed common areas and amenities, and social distancing.
As states lifted their stay-at-home orders and businesses began to open their doors, homeowners associations started to decide how and whether to reopen common areas and amenities. Board members, community managers, and business partners asked: What approach should we take to reopening? How should we phase in operations? Do residents need to sign a liability waiver to use the pool? Do we need to keep anything closed? We expect these questions to continue into the fall as the pandemic surges in communities throughout the U.S.
"Just as a reserve study document serves as guidelines for what capital maintenance is done and when, our intent was to create a document boards could rely on to make consistent and, most importantly, safe and prudent decisions for their associations," says  Michael Johnson, CMCA, AMS, PCAM, CEO of FCS Community Management, AAMC, in Draper, Utah, who developed detailed guidelines to help the 250 communities his company manages as they reopen based on the state's color-coded reopening plan.
CAI adapted Johnson's document for a broader audience. Our guide features templates such as a letter to update residents about the status of common areas and amenities, as well as procedures for association common areas, amenities, and operations that are organized by risk level or reopening phase. These guidelines can be tailored to each community's needs, and are unique to each state, county, or city.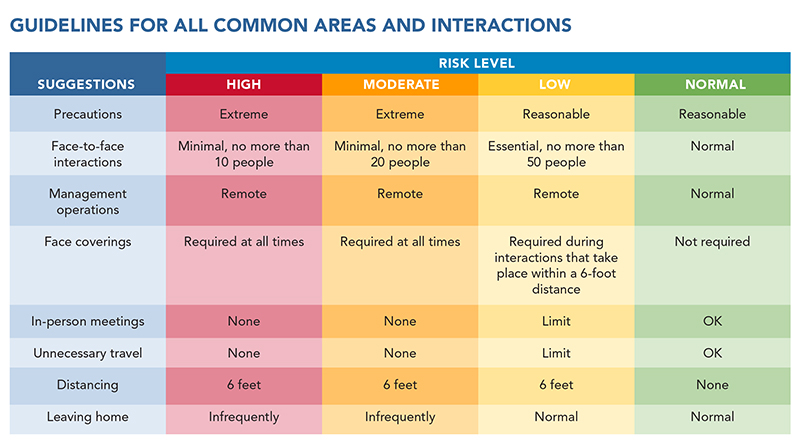 "Having color-coded association guidelines, based on the color-coded guidelines most states are now using, allowed us to communicate to boards and homeowners beforehand what common amenity usage (and association board/owner meetings) would look like and when," explains Johnson. "And now that, unfortunately, some areas are starting to roll back openings, the corresponding effects on common amenities are already in place."
In general, the high-risk category would apply to the shutdown and stay-at-home phase, moderate risk to reopening phase one, low risk to phase two, and normal to phase three.
"As it is apparent the virus isn't going away anytime soon, our document is constantly updated to reflect the latest strategies and best practices for living in our current reality," adds Johnson.
Communities should use the Status Check: A Reopening Guide for Community Associations to evaluate their current and future plans as they move forward in the various phases. We strongly encourage board members and community managers to consult with legal, insurance, health, and management experts before taking any actions.