In support of one of RCP's very own manager, RCP employees wore red this Friday, February 3rd 2017 to join in on raising awareness about heart disease in women for National Wear Red Day!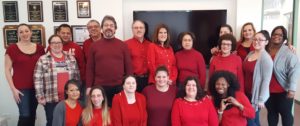 Our manager underwent life saving open heart surgery almost 7 years ago.  Feb 10th is her "Heartaversary" as she calls it!  Her surgery was to correct a silent deadly genetic condition where the tissue in the walls of her heart over grew.
National Wear Red Day, Feb. 3, 2017, marks 15 years since the initial National Wear Red Day, which was first observed to bring national attention to the fact that heart disease is the #1 killer of women, and to raise awareness of women's heart health.  Much has been accomplished so far:
Nearly 90% of women have made at least one healthy behavior change.
More than one-third of women has lost weight.
More than 50% of women have increased their exercise.
6 out of 10 women have changed their diets.
More than 40% of women have checked their cholesterol levels.
1/3rd of women has talked with their doctors about developing heart health plans.
Today, nearly 300 fewer women die from heart disease and stroke each day.
Death in women has decreased by more than 30 percent over the past 10 years.
More work is crucial. Get checked early, and encourage ALL women to do the same!

For more invaluable information visit https://www.goredforwomen.org/