By: Mary Ellen Saks, Building Manager
Carlyle Towers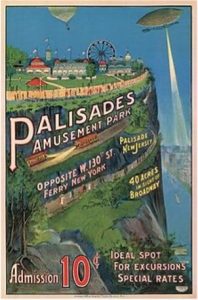 Palisades Amusement Park was a 38-acre amusement park located in Bergen County, New Jersey, across the Hudson River from New York City.  It was located atop the New Jersey Palisades lying partly in Cliffside Park and partly in Fort Lee. The park operated from 1898 until 1971, remaining one of the most visited amusement parks in the country until the end of its existence.
Before the use of automobiles, the park first opened in 1898 as a trolley park to attract evening and weekend riders.
In 1908, the park installed a Ferris wheel, a baby parade, and diving horses.
The park then added, in 1912, a salt-water swimming pool.  It was filled by pumping water from the saline Hudson River, 200 feet below the park.  It was advertised as the largest salt-water wave pool in the nation.
In 1928, the park introduced the Cyclone roller coaster, clearly visible from the NY Skyline!

The park's reputation and attendance continued to grow throughout the 1950s and 1960s, largely due to the success of the park's music pavilion.  During the mid-1950's, the park featured rock and roll shows hosted by local radio announcer, "Cousin Brucie" Morrow, and, during the 1960's, Motown musical acts also performed.
In 1962, Chuck Barris composed and Freddy Cannon recorded a song about the park entitled "Palisades Park".  The song increased the park's fame even more.
From 1947 to 1971, Palisades Park averaged 6 million visitors.  Radio and TV commercials encouraged the public to, "Come on over!" and they did just that.
Three factors contributed to the eventual closing of Palisades Amusement Park: inadequate parking; growing uncertainty about the park's future; and an increase in the number of incidents where visitors were injured.
Local residents objected to the traffic jams, litter, and other effects of the park's immense popularity. They demanded action from local elected officials. Developers, wanting to profit by the Palisades' view of Manhattan, successfully pressured local government to re-zone the amusement park site for high-rise apartment housing and condemn it under eminent domain.
The park permanently closed on Sunday, September 12, 1971.  The buildings were demolished; the rides sold, dismantled and transported to other amusement operators in the United States and Canada.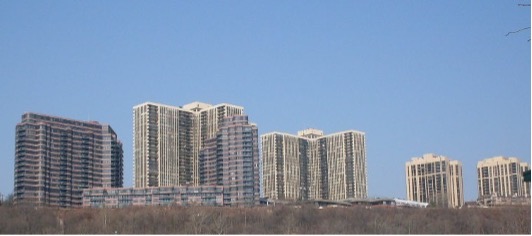 Four high-rise luxury apartment buildings stand on the old park site today. The first two built were Winston Towers. Carlyle Towers followed and then the Royal Buckingham.